Place branding Case Study
Client: Experience Nottinghamshire / Visit Nottinghamshire
Deliverables: web design, advertising, visitor guides, photography, heritage trails, exhibition, illustration, print management

'Place', for us, has been as vast as the rugged and romantic coastline of a country, right down to the inescapable intimacy of a single, ruined room. Either way, the challenge has been to create a sense of that place which engages the visitor, educates and entertains.
Typically, we provide creative solutions across our full range of skills to support place marketing strategies, helping to shape the image of place to influence perception and reputation.
The county of Nottinghamshire is the birthplace of literary heavyweights such as D H Lawrence and Alan Sillitoe, and resting place of poet Lord Byron; is famed for its past sporting glories, centuries-old Goose Fair, boutique shopping, creative and science industries; and of course is home to world-renowned Sherwood Forest and the legend of outlaw Robin Hood.
Handling the entire creative output for official tourism body Experience Nottinghamshire and Visit Nottinghamshire was a never-ending task of balancing creativity and consistency. Business, retail, tourism, and accommodation-specific visitor guides; national advertising; county-wide visitor trails; product development; and large-scale print management, all helped drive leisure and business visitors to the city and county.
We're happy to help you identify the soul and appeal of your place; develop strategies and tactics which will embody that spirit within a vision which will engage and captivate your audience; and support you with the professional skills necessary to bring that vision to life.
And we're practised, comfortable and confident in the company of owner/custodians of historic houses and monuments; freelance HLF Project Managers; Destination Management Organisation marketing professionals; and the officers of local enterprise partnerships and government departments.
Attractions, accommodation and shopping guides for visitiNG
Being born and bred Nottinghamshire lads, we were rightly passionate about this project. Nottinghamshire has a rich heritage and future that promises a return to past greatness, with the renewed interest in the legend of Robin Hood, the extensive redevelopment of the city's shopping offer and the wide appeal of its diverse culture.
Trying to create a suite of visitor guides which encapsulated all of the above was the challenge. But this we did with a complete re-design of Experience Nottinghamshire's visitor guides in a print run exceeding 180,000.
A series of cycle routes through the heart of Robin Hood country, highlighting points of interest, refreshment stops, and the Robin Hood Audio Trail.
A folded A3 format provides a large scale map with which to plan your adventure and ensure that you stay on track.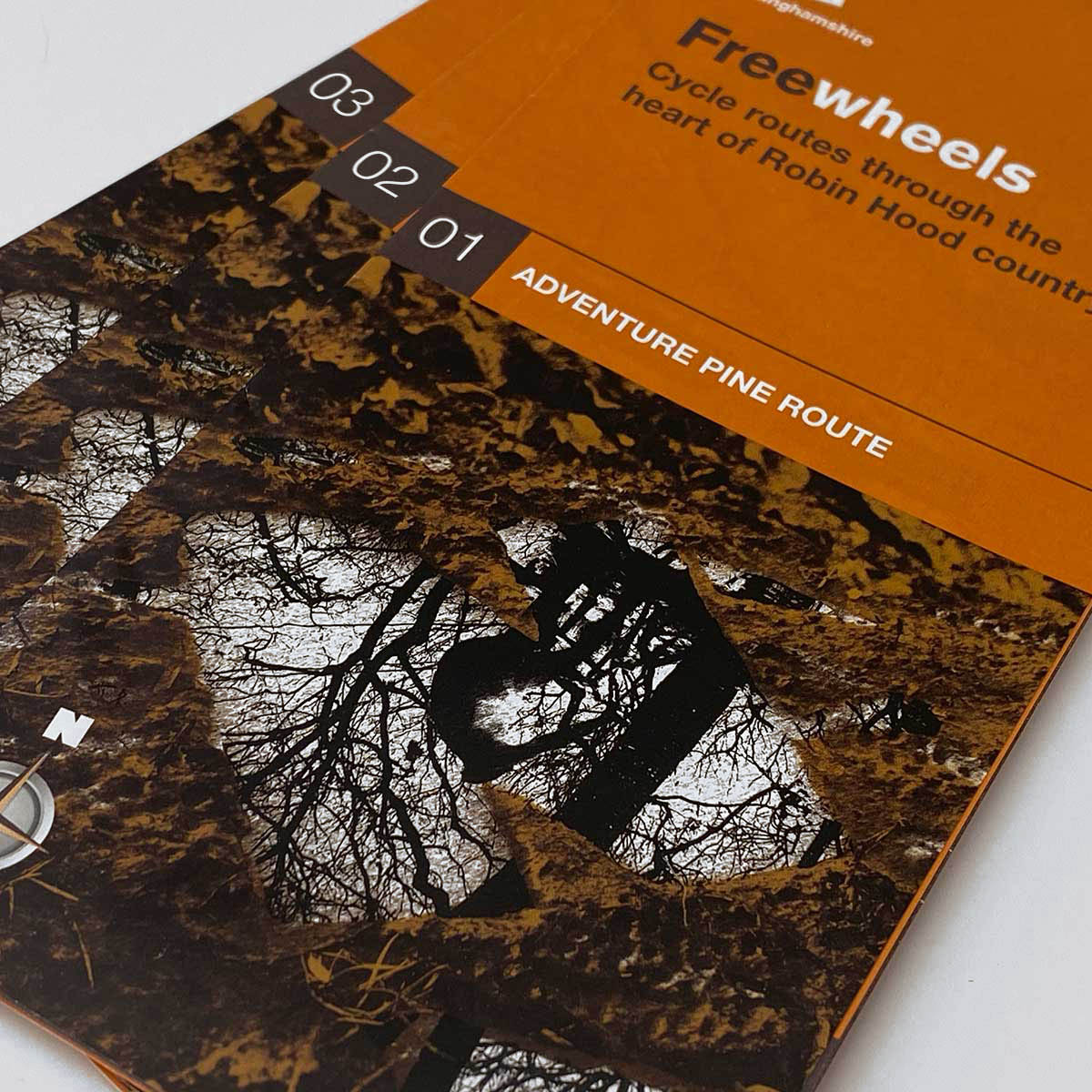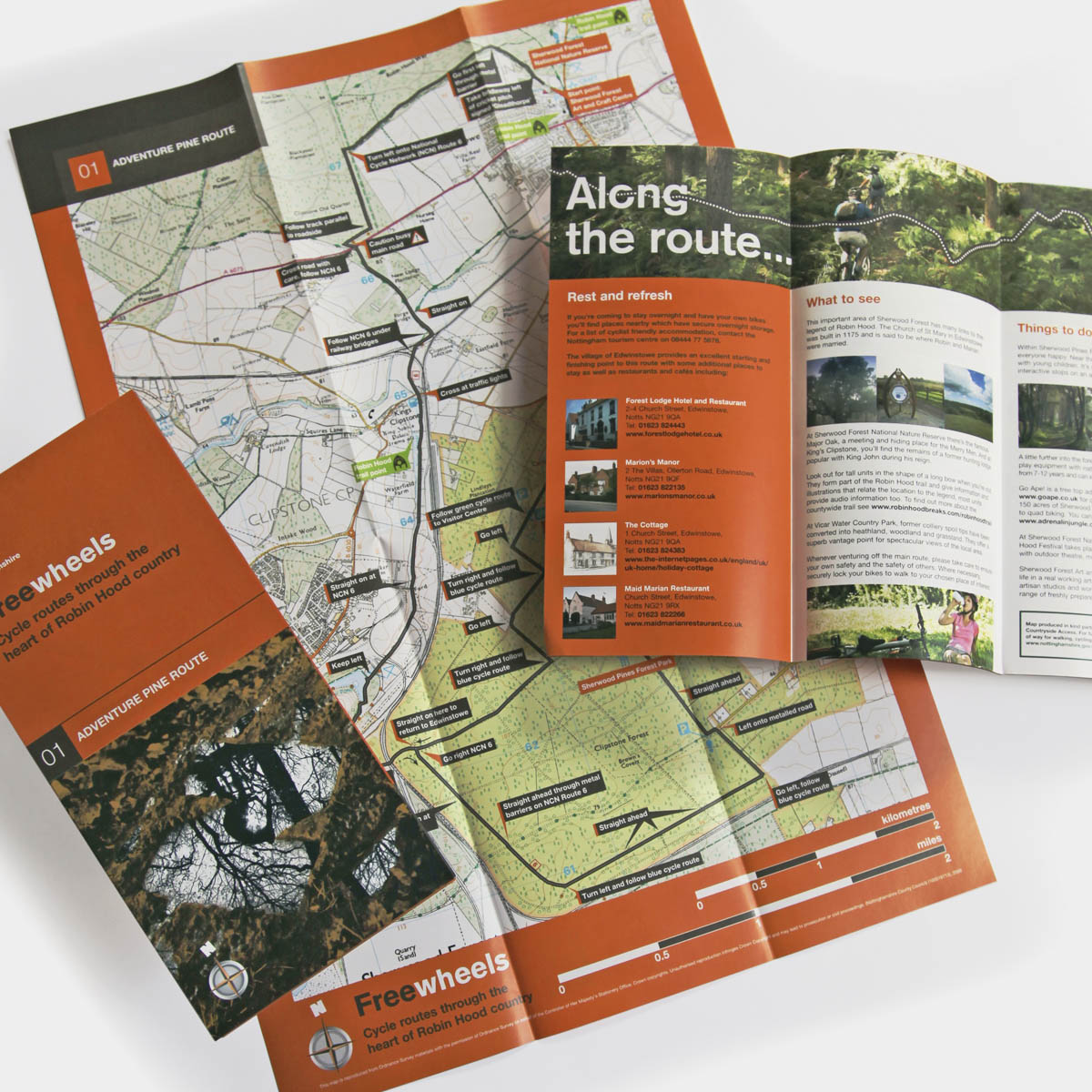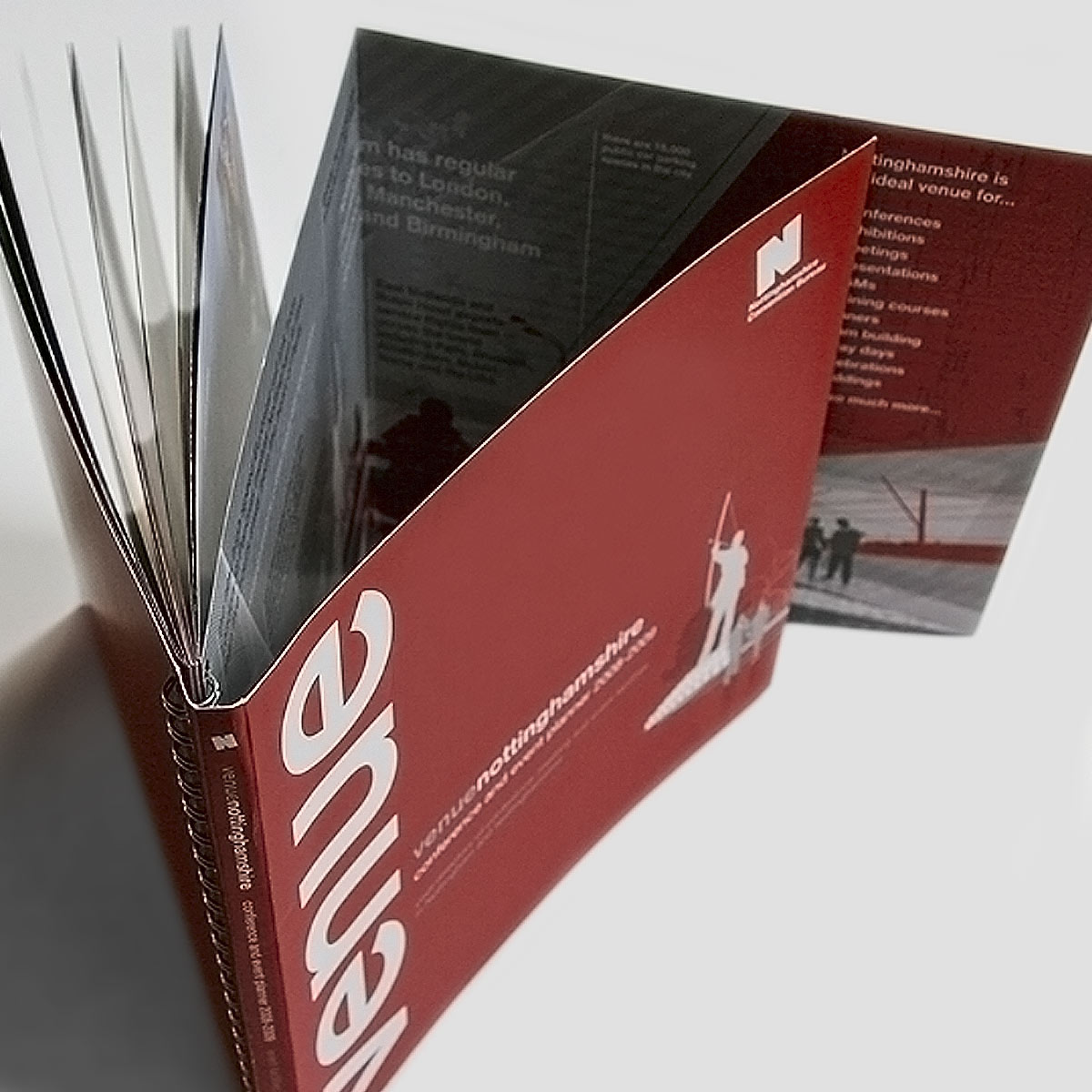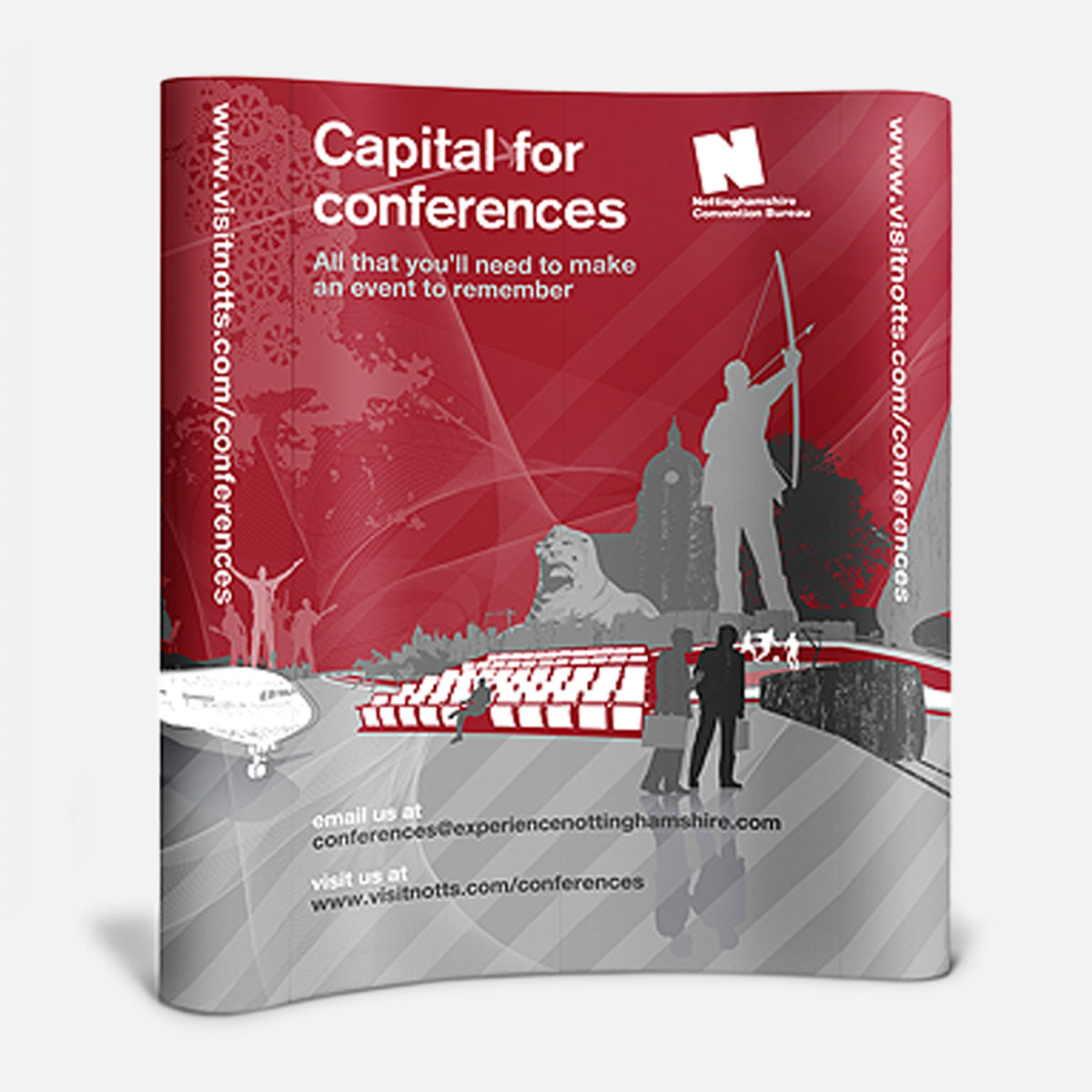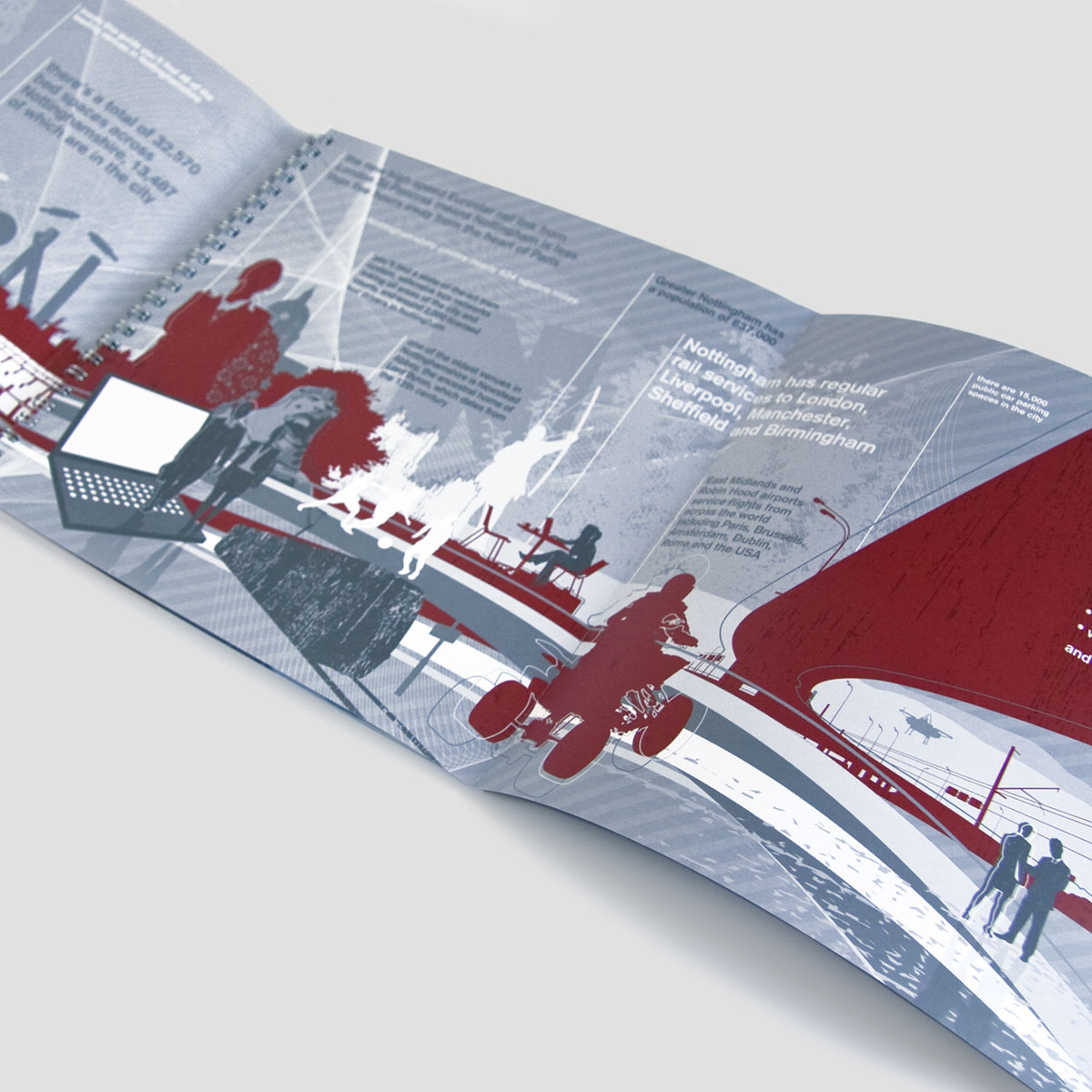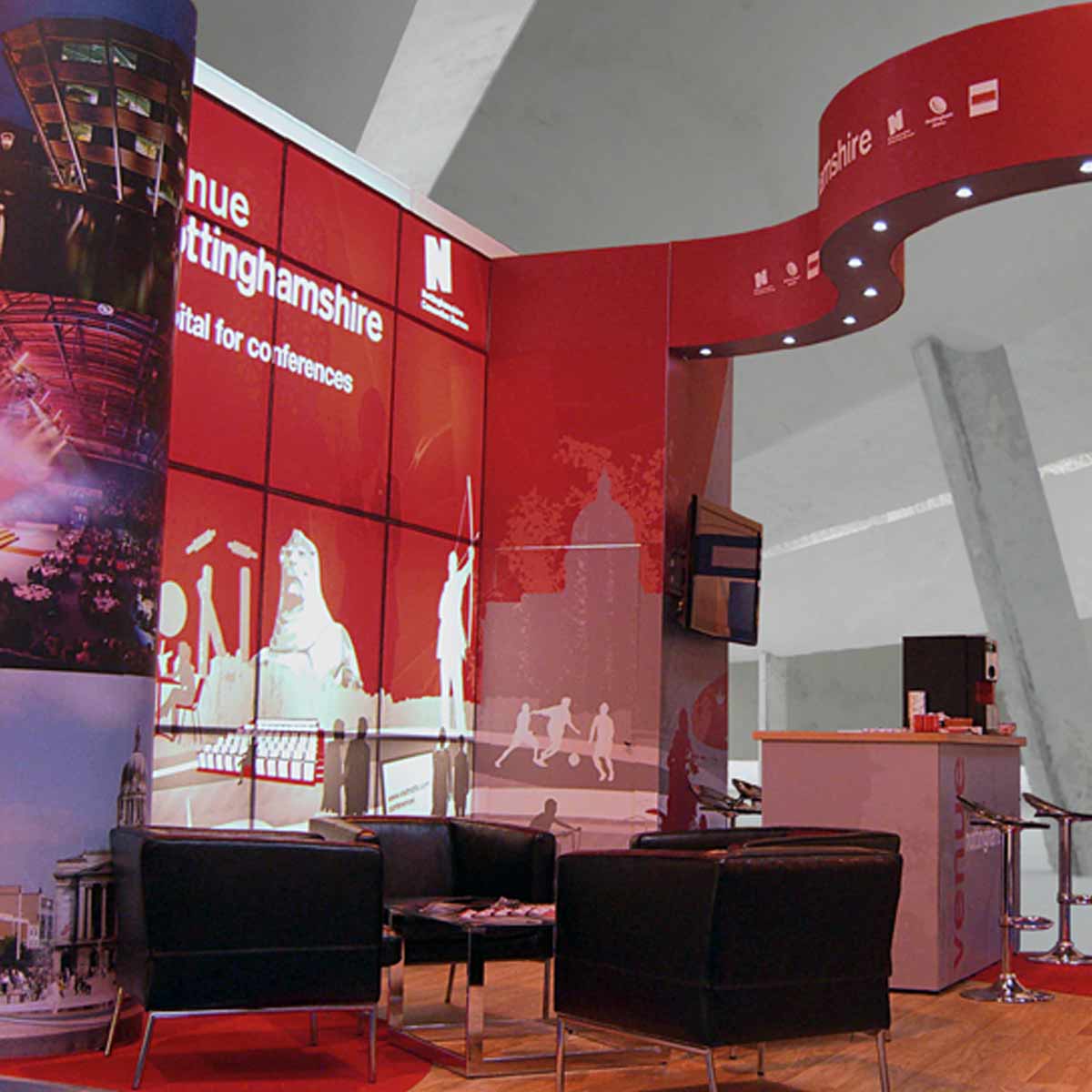 A directory of conference, meeting, and event facilities within the county was produced for Experience Nottinghamshire to a tight budget, whilst utilising an interesting binding mechanism and throw-out, double sized leaves.
The result of a complete re-design, venuenottinghamshire was a huge departure from the style and format of previous years. Feature illustrations throughout, helped encapsulate the diversity and scope of the county's offer as a business and leisure destination, whilst reminding readers of the history and heritage that ensures Nottinghamshire is referred to the world over. Throw-out maps of county or city could be considered as readers chose their perfect venue, aided by advice on hosting the perfect event.
The creative was followed through into conference and show stand designs.
It's no exaggeration to claim that this project was 'a year in the making', with a need to showcase the county throughout the seasons.
But given that we're constantly collecting images of the wider region for both our own image library and commercial commissions, this didn't present a problem.
The result, an 18 page collection of images capturing the county's heritage, culture and diversity, reminds us all of the beauty on our doorstep.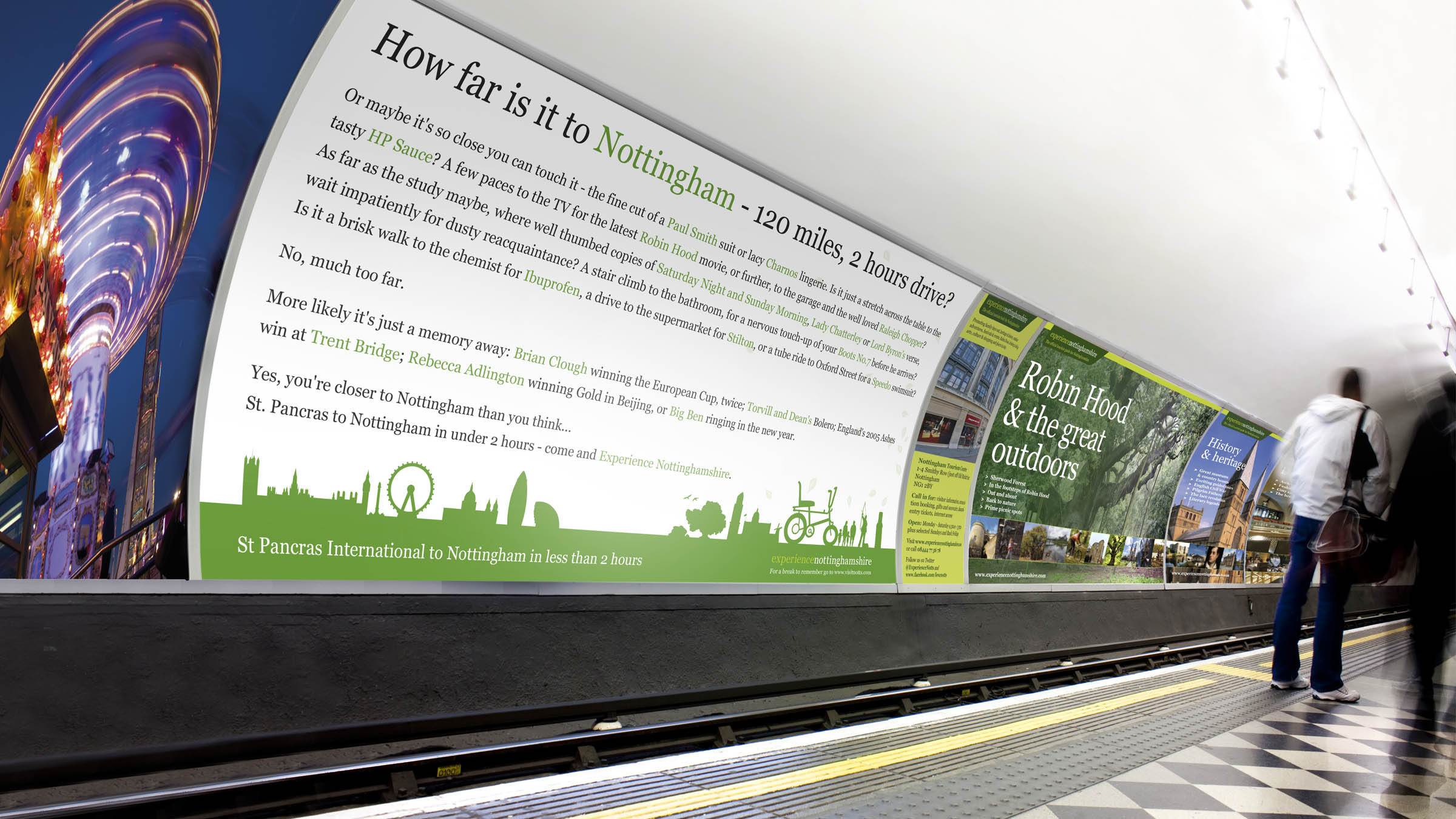 Local, regional, and national advertising to help promote the tourism and business offers of the city and county.
From simple, immediate visual messaging, to concept-led, long copy storylines.
Following 'in the footsteps of Robin Hood' was the theme for Experience Nottinghamshire's Robin Hood Audio Trail – an audio CD and trail guide which takes listeners to all the places key to the Robin Hood legend. Along the way, Fielder Green Associates created audio and visual interpretation units at 12 locations, taking you back to Robin's time, when he and his men fought arch enemies King John and the Sheriff of Nottingham.
On behalf of Fielder Green Associates, we designed bespoke P.O.S. elements to echo the interpretation units, dispensing the CD, guide, and iKyp® interactive pocket guides. Monkie supplied mapping, photography, and illustration, brought together in an engaging campaign making for a great day's activity for the whole family!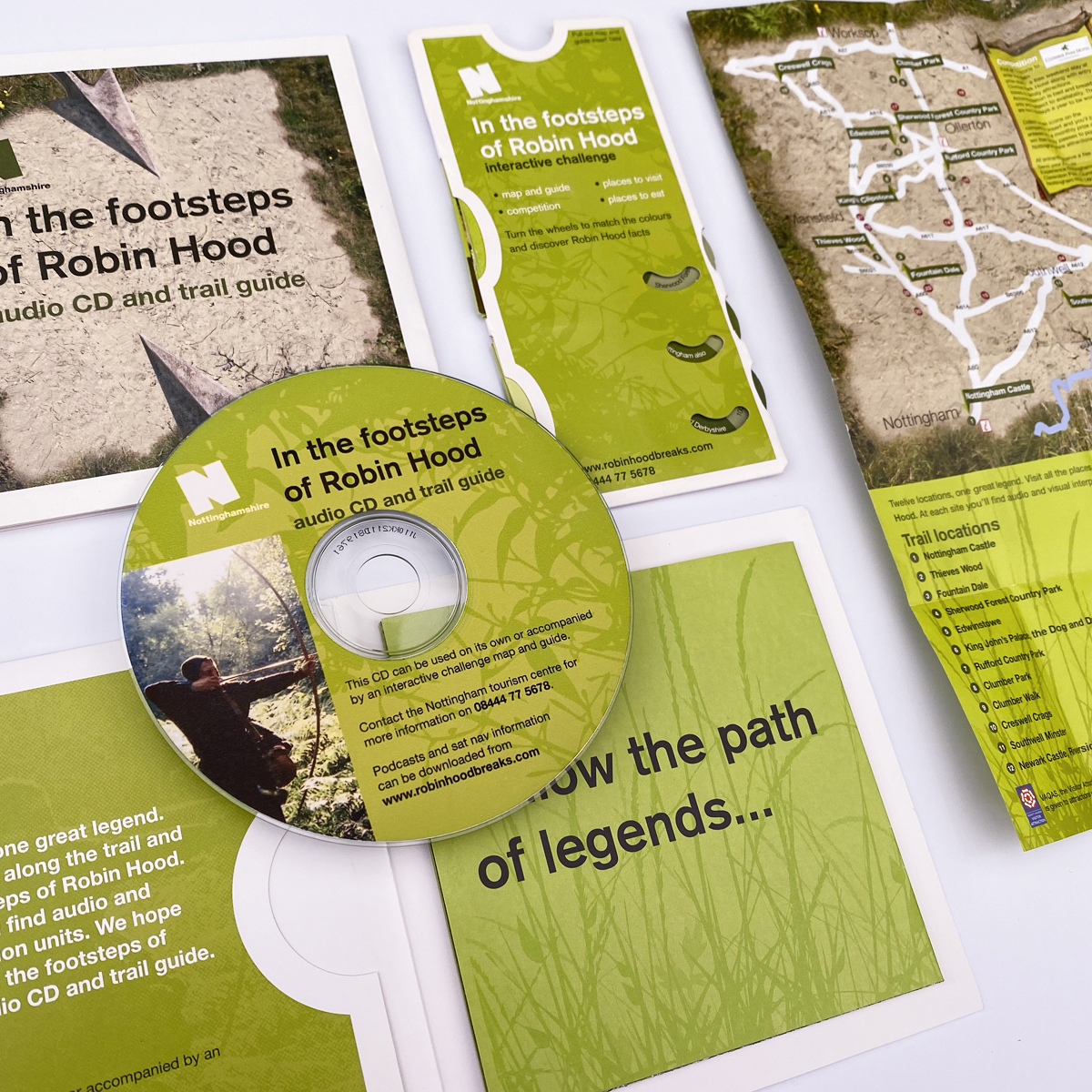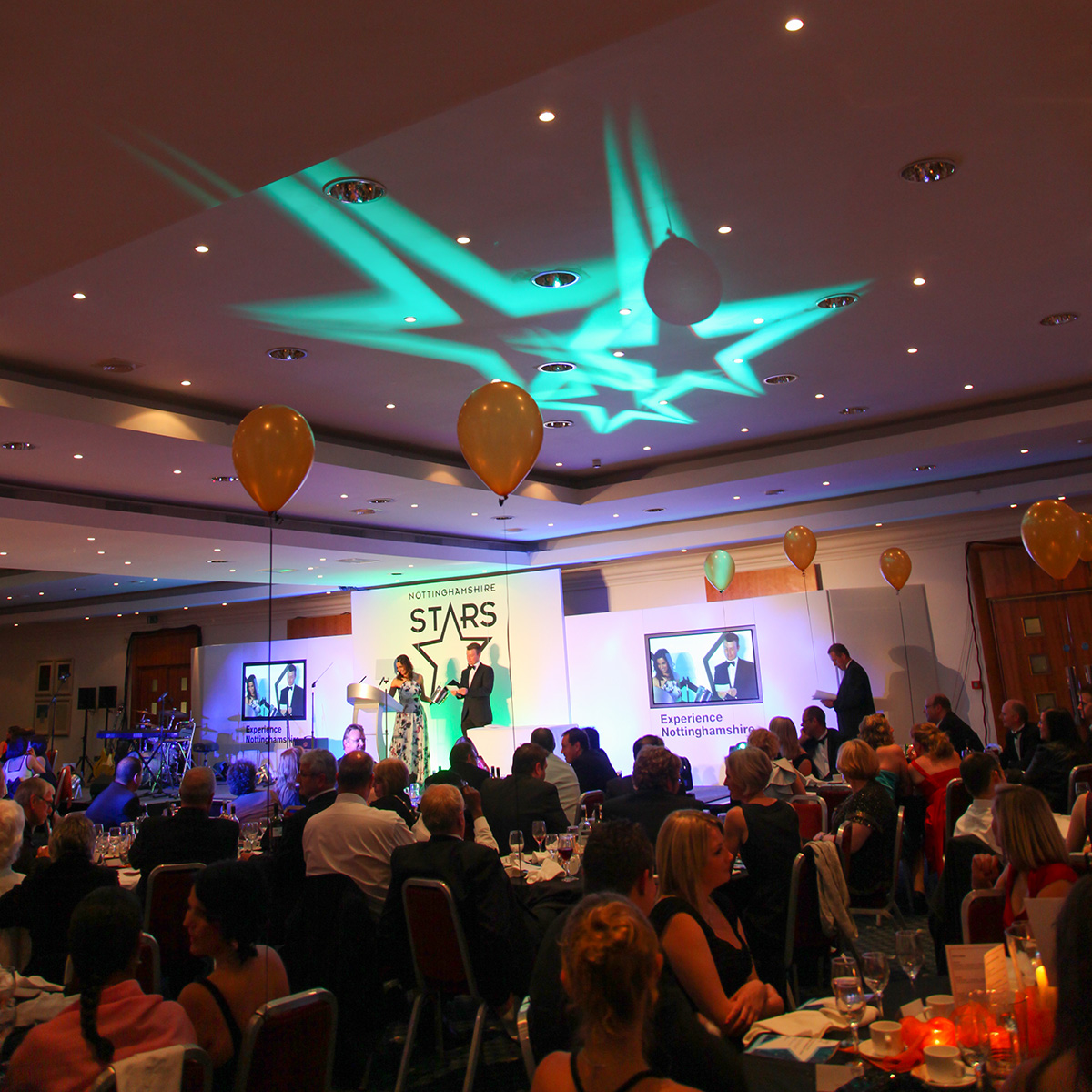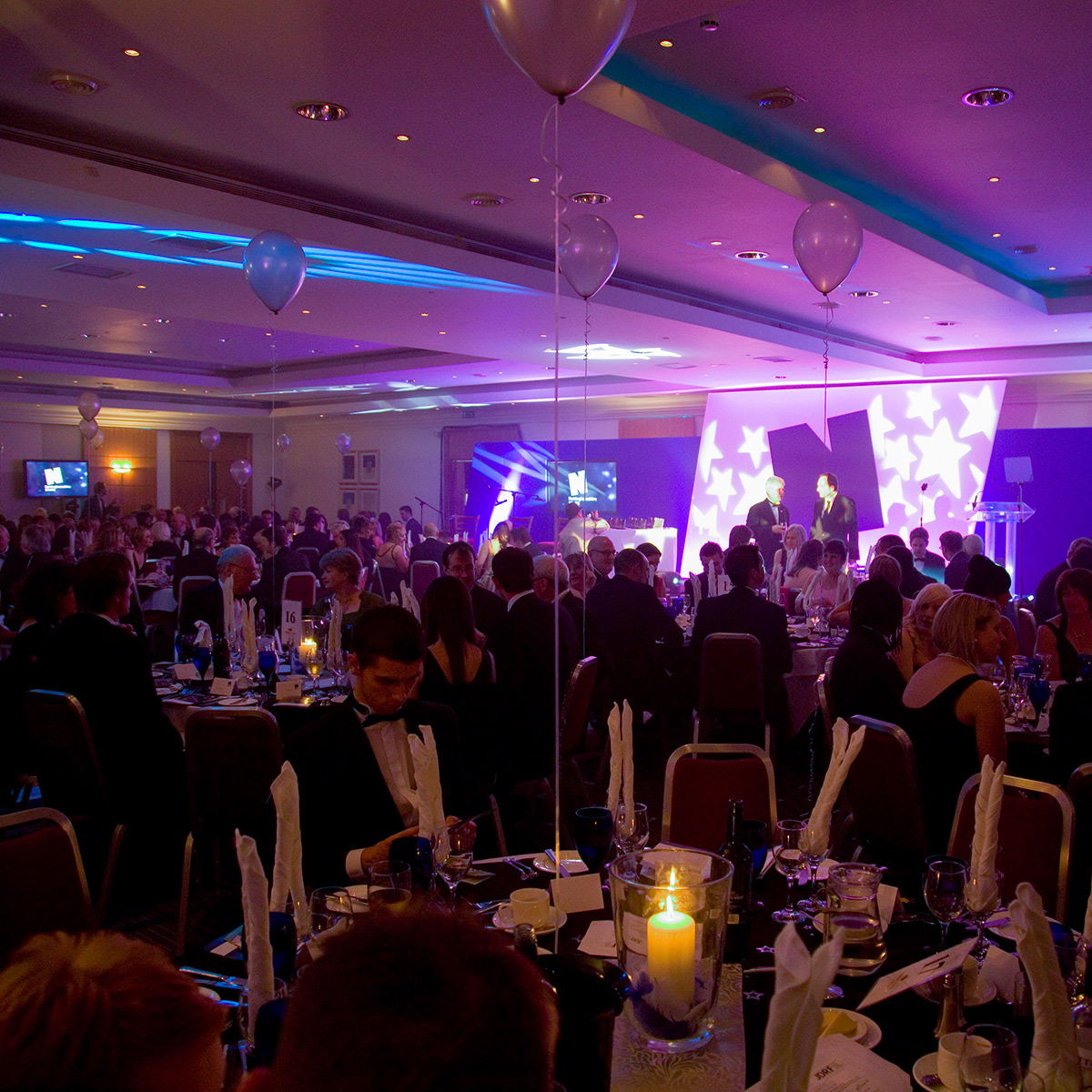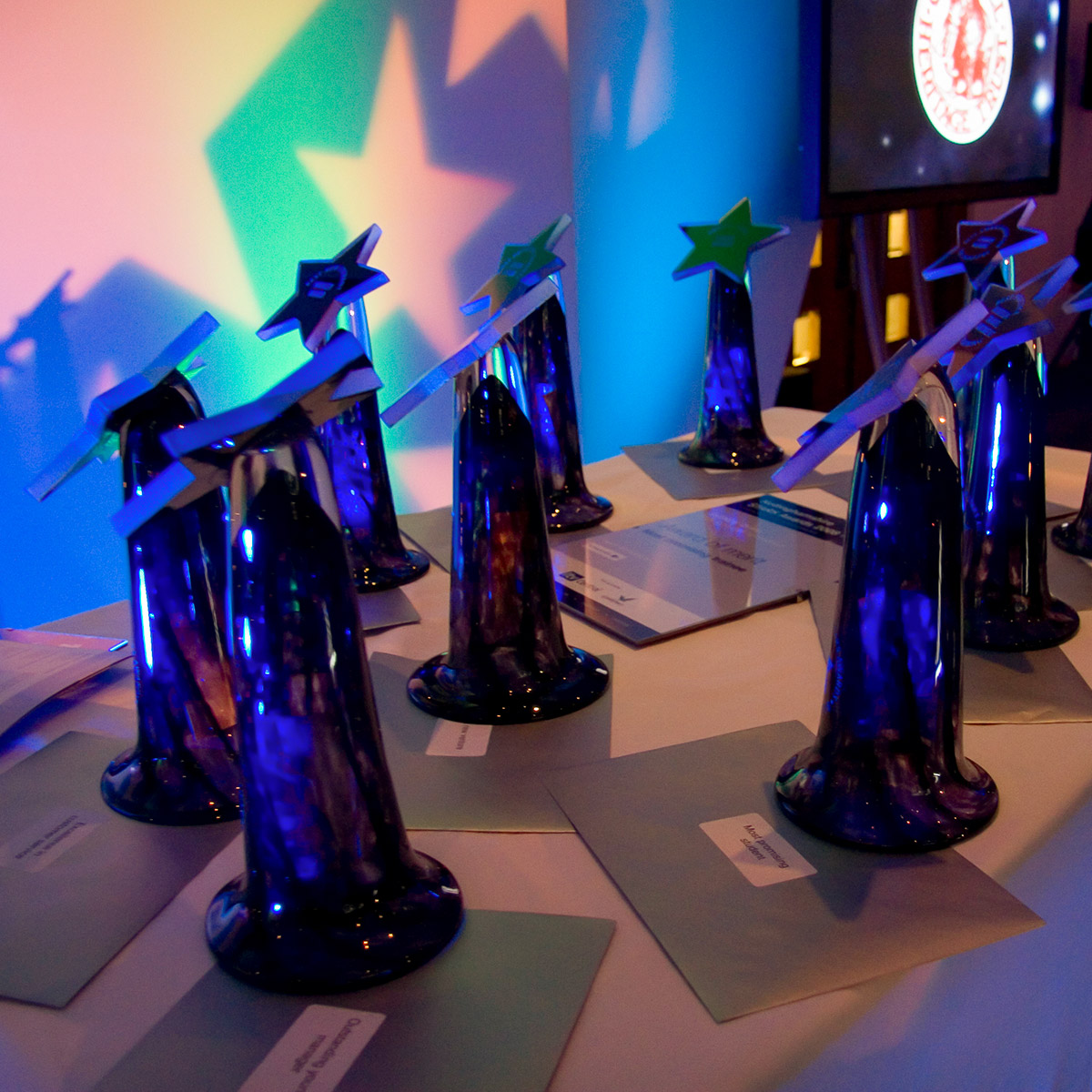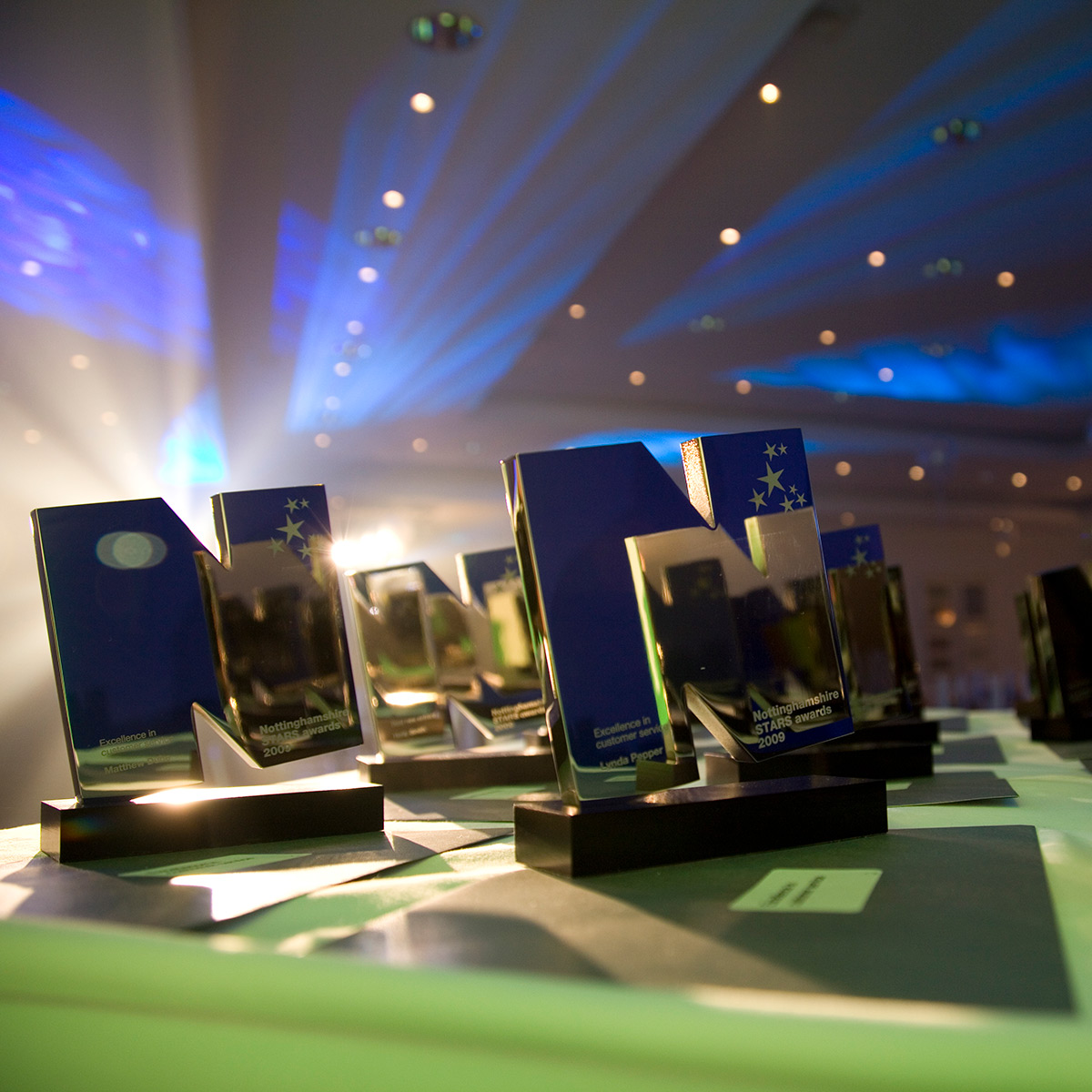 Each year, the tourism body celebrates the dynamic and diverse businesses which support the visitor economy, with a black tie awards event at one of the premier county venues.
Identity, signage, invitations, advertising, photography, videography, and programmes, helped ensure the events were a resounding success and enjoyed by all.
Other Place Branding projects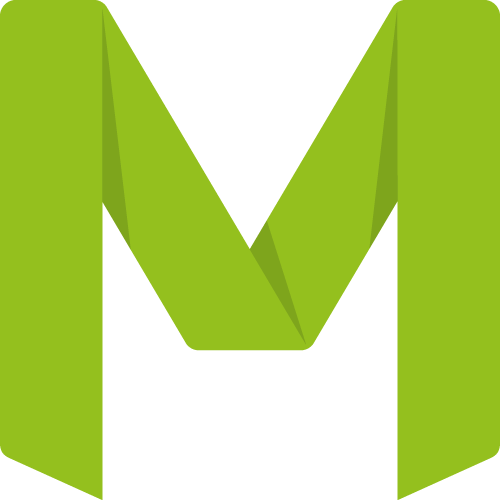 To help celebrate Wales's 2018 Year of the Sea, a new digital experience created by Fielder Green Associates, allowed users of the Cadw app to re-live the Great Storm of 1859, one of the worst in Welsh history, and spanned the entire Welsh coastline.
'Storm' Augmented Reality visitor trail experience for the Cadw app
Supplying graphic design and animation services for Fielder Green Associates, this augmented reality experience is delivered through Cadw's own membership app. It encourages visitors to explore the history and heritage of the Welsh coast through a steampunk-styled take on imagined newspaper and on-site reporting at the time of the tragic event.
Lord Elis-Thomas, minister for Culture, Tourism and Sport, said: "This innovative digital experience is yet another example of how Cadw is successfully using cutting-edge technology to make Welsh heritage easier to access, digest and enjoy."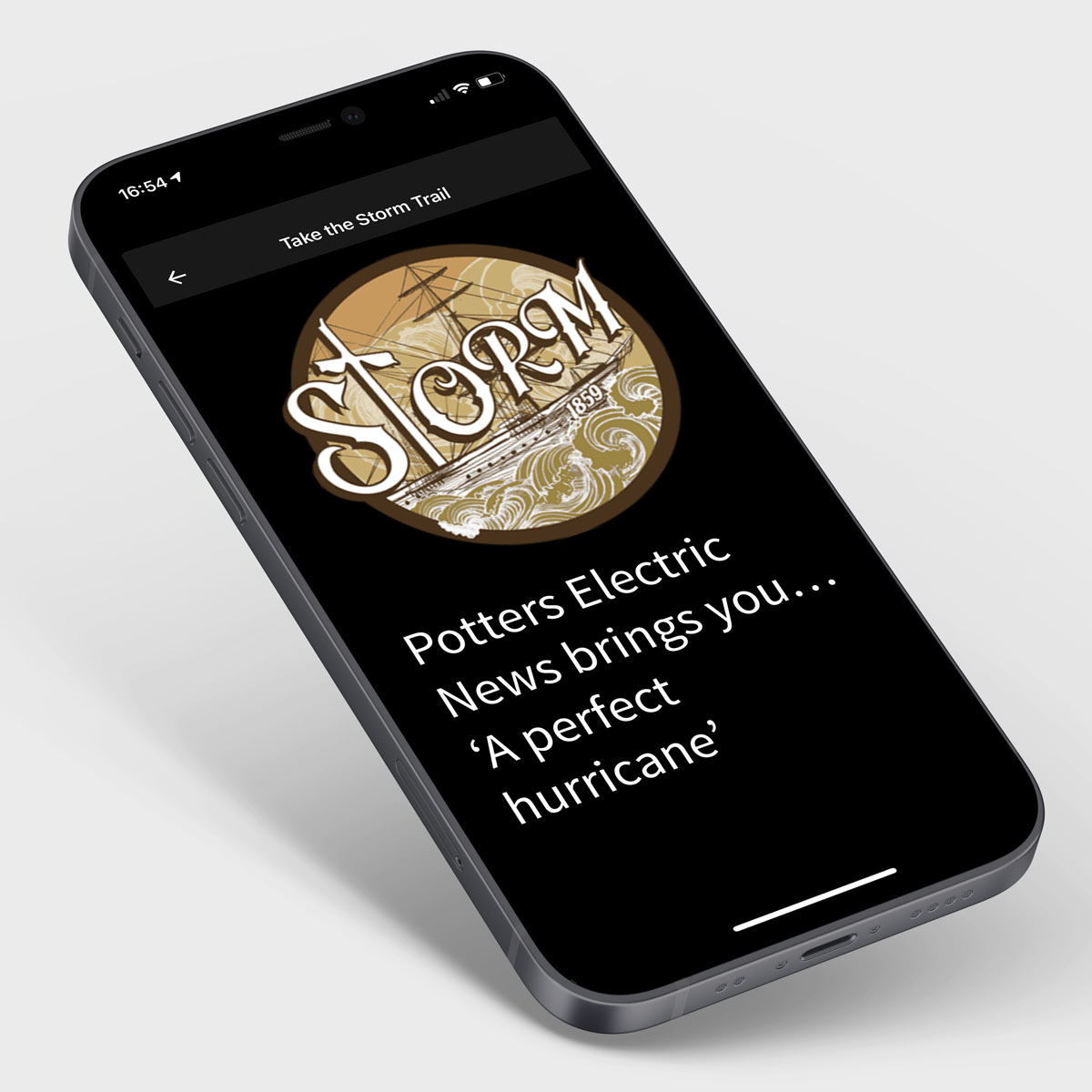 The British Midlands and England's East Midlands
Marketing collateral created in formats to support European and US publishing standards focussed on raising productivity, ensuring sustainability, and achieving equality, and encapsulate three Regional Economic Strategy themes.
Delivered through the local development agency's International Investment Team, the British Midlands brand sought to attract inward investment into the region and encourage international businesses to establish new UK operations in the East Midlands. The England's East Midlands brand promoted a similar offer to the European market.